CRASH DAMAGE SCHEME
Read more about our new scheme for 2020
Crash Damage Scheme £300/weekend (£450/Brands Double Header) with £1,200 excess – that's £1,950 for the full season.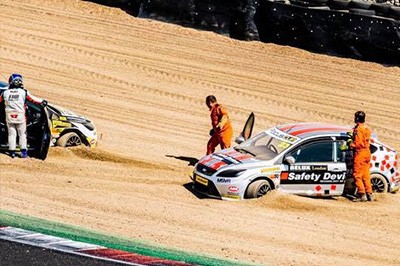 One thing that scares all us racing drivers, including myself, is having a crash. Apart from the fact we could be hurt, there is also the worry of what the car will cost to fix. To some this could end their season, to others it could end their racing completely. Insurance is very expensive. In 2019 a few drivers looked at insurance and came back with £750+ for each round with £1,500 excess. So basically you would need to do over £2,250 of damage before you could claim anything.
Further to this, in 2019, we had at least 10 driver enquiries to race with us for 1-2 rounds, who didn't because of the risk of receiving crash damage.
We have decided to address this ourselves with our very own Crash Damage Scheme. We are not allowed to call this Insurance, but it works in a similar way. As we now have a season under our belt, we know what the various crashes that happened cost to fix. On the whole there wasn't a lot of damage throughout the year but a couple of drivers had damages over £3,000. Focus Cup Ltd have decided to take on some of the risk to give drivers piece of mind.
You don't have to have Insurance or join our Crash Damage Scheme to race The Focus Cup.
Crash Damage 2020
When a car receives damage, however caused it is the driver who is responsible for the costs involved in the repair of the car. Driver error, a third-party error or mechanical failure causing damage to the car, are all chargeable to the driver.
It is difficult to compile a list of every single part, but here are the main expensive panel parts. It's worth bearing in mind that corner damage could also damage suspension parts and front end damage could also damage the cooling systems. All parts damaged will be repaired or replaced at the cost of the driver.
The below list of prices includes the part, labour for fitting, replace wrapping materials or paint, stickers and VAT.
| | |
| --- | --- |
| Front Bumper | 672.00 |
| Wing | 318.00 |
| Bonnet | 300.00 |
| Windscreen | 348.00 |
| Door | 360.00 |
| Mirror | 75.00 |
| Door Sill | 276.00 |
| Rear Quarter Panel | 972.00 |
| Rear Bumper | 372.00 |
| Tailgate | 300.00 |
| Wheel | 150.00 |

Insurance
Crash Damage Insurance is not included in the cost of racing, but for piece of mind, no huge surprise bill following a crash, for a fee of £300 inc VAT per round (Brands Hatch 2 dayer £450 inc VAT), you would only pay the first £1,200 towards the damages. This is a Crash Damage Scheme operated by Focus Cup Ltd and is not insurance. Example: you are involved in a bad accident and the cost to repair is £3,500 including VAT. You would only pay £1,200 towards the damages and Focus Cup Ltd would pay the rest of the invoice. To avoid confusion, we will call this the drivers Excess.
Crash Damage Scheme – Terms and Conditions
Following a crash, all drivers will be invoiced in full, showing the repairs and replacement parts. A driver who has paid the Crash Damage Fee will then receive a Credit Note reducing the amount owed to their excess amount.
A driver who exceeds their excess at an event, causing Focus Cup Ltd to pay part of their Invoice, for subsequent events, their excess amount will increase as follows: Following a crash where the driver was deemed to be at fault, the damage exceeds the excess, the excess amount will increase by £600 for their next event. Their excess amount will be increased again by £600 each time following further incidents of exceeding excess at each event.
Example: Driver A, who has paid the Crash Damage Scheme Fee has an accident at Donington and the repair invoice is £2,000. Driver A will pay £1,200 and Focus Cup Ltd £800. Going to Croft Driver A's excess will increase to £1,800. If a further incident at Croft exceeds the excess the excess for Snetterton will go up again to £2,400. If the driver has two accidents at an event causing damage, Excess will apply to each accident.
Example – This means that if the driver has damages to the front end on the test day, then the rear end in race 2, the driver will pay the first £1,200 of each incident. However, if the damage is to the same area of the car the two incidents may be invoiced as one requiring the driver to pay the first £1,200. This is also the case when changing from one car to another over the weekend. Each damages invoice will require the first £1,200 to be paid by the driver.
Payment of Fee: the payment for the Crash Damage Scheme must be paid prior to entering the car at each event and a form will be signed by the driver agreeing their excess.
Focus Cup Ltd reserves the right to refuse a driver from joining or continuing with the Crash Damage Scheme.